KAVACA CLEAR BRA
If you have been searching for a clear bra for your vehicle, Ceramic Pro Puget Sound is here for you! We serve Carlsbad, Kearny Mesa, and the rest of Puget Sound County. If you are looking to protect more of your vehicle, our Full Front Package is for you! What is covered in this package is the entire hood, the full fenders, the front bumper, and the headlights. We also do the inside of the door cups so that your fingernails don't scratch the doors. That can be a commonly damaged area, especially with darker-colored cars. We also do a piece of the rear luggage area, on top of the rear bumper so that you do not scuff the bumper while putting things in your trunk. The biggest advantage to the full-front package is that you are getting more coverage and a more seamless application.
You will not have any exposed edges like you do on the partial front. The Full Front is a cleaner install and you will not have the visible lines that you will have with the partial front package. Our team of experts has the latest and greatest software to custom cut your PPF to perfectly fit your vehicle and perfect the look that you are after. We use Ceramic Pro Kavaca. It all depends on your preference and your budget. All of them are great however, Ceramic Pro Kavaca is instant self-healing which means that no heat is required for any damages to disappear. Contact us today for more information on protecting your investment!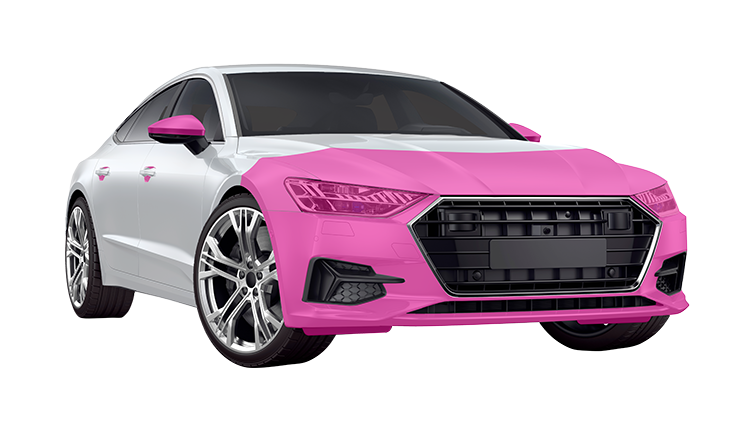 INCLUDED IN PACKAGE
CLEAR BRA FULL FRONT KIT
ENTIRE HOOD
FULL FENDERS (WRAPPED EDGES)
BUMPER
FRONT OF SIDE MIRRORS
HEADLIGHTS
REAR LUGGAGE AREA
With over a decade in the industry, we are the professionals that you can trust to protect your investment with the best paint protection film products on the market.
Covers the entire hood, the full fenders, the front bumper, door cups and headlights.
ARE YOU LOOKING TO PRESERVE YOUR CAR?

Service Area
one
two
three